Sound Systems
If the sound, stylings, inspiration and influences of Hip Hop MCs and DJs were American, the actual structure of Hip Hop originates in Jamaica.
Kingston, Jamaica c. 1960s
A brief historical overview of
Jamaica in the middle of the 20th century reveals a community adapting to industrialization. As the country transformed from an agricultural society of slave labor into an industrialized economy of moderate incomes. Factory labor displaced farming to a large degree and Jamaica becomes characterized by its Kingston city life rather than its agrarian traditions. Somewhat akin to what was occurring in New York City, industrialization was economically successful in the 1950s but the effects of post industrialization soon impacted the lives of hundreds of thousands of Jamaicans in the ensuing decades. Jamaica's economic and cultural inequality created a vacuum of opportunity for many contributing to high rates of poverty, crime and violence; the plight of many of Jamaica's people took place in Kingston, Jamaica's capital and largest city.
While the economics of globalization might of marginalized its inhabitants, the dissemination of popular American music to the little isle of Jamaica gave birth to one of the most durable and worldwide prolific forms of modern music: Reggae. After WWII, migrant American workers and entrepreneurs begin to inhabit the island; Jamaican interest developed in the American R&B music being broadcast from American cities such as New Orleans on these workers' AM radios. Local radio was government controlled and would not play the likes of Louis Jordan and Ray Charles. Imported records were far too expensive for the average Jamaican to purchase and own. As the appetite for American music grew and the desire to socialize and dance increased in Jamaica, how would the demand be met?
Musical entrepreneurs met this demand by investing in buying records and large mobile speaker systems. Headed by local vocal talents these "sound systems" emerged as new cultural form as much influenced the technologies on hand as they were by any musicians

.

Sound systems were essentially travelling record shops where DJs would play new American music to gathered audiences in a tenement yard or dancehall. "Sound

selectors

" used

turntables and microphones powered by these large speakers and powerful amplifiers

to host these events, aided by their

"Deejay." By the Jamaican definition, the Deejay

would would mimic the stylish vocal patter of the American radio disc jock in their indigenous patois

. Different sound systems throughout Kingston would often compete

or "

clash" against each other for prize money and prestige.
In the early 1960s, the waning quality of American R&B compelled sound systems to hire local musicians to compose and perform "original" records. Fusing the indigenous rhythms of calypso and mento with American R&B and jazz, Jamaica forged its own music called Ska. Sound systems now not only threw parties but also entered the record business, recording bands in hopes of scoring the next hit single.
Frequently these recordings were covers of popular American tunes or original Jamaican tunes that would soon to become standards that would be adapted later. The Ska version of "One Love" by Bob Marley and the Wailers is a prime example of this early reggae sound and the ground work for its later more recognized reggae version.
Sound System DJs
In 1966,

the speed and brass horns of ska music come to a halt and the

slower, more bass heavy sounds of Rocksteady emerge. Covering songs and refashioning them with a Jamaican sound became an established pattern by this time in Jamaican music. Here The Techniques cover Curtis Mayfield and The Impressions' "Minstrel and Queen" for their "Queen Majesty."

An interesting new feature of Sound System culture emerged in this period. In the quest for fame, money, and a distraction from routine violence that plagued parties

, directors of the sound systems gave Deejay space to not just speak between records, but to "chat" or "toast" along with the record. The Deejay would often rhyme a couplet or sing a catchphrase

("Live the life you love, love the life you live")

between the sung lyrics of the original record.
The purpose was to compliment the theme of the record by riding the rhythm of the music with rhymes chants, squeals or screams; provide comedic relief; declare a sound system's supremacy; or to acknowledge members of crowd such as the "rude boys" in the audience. A common practice of these "bad men" were to fire their pistols in the air in approval of a particular record or performance.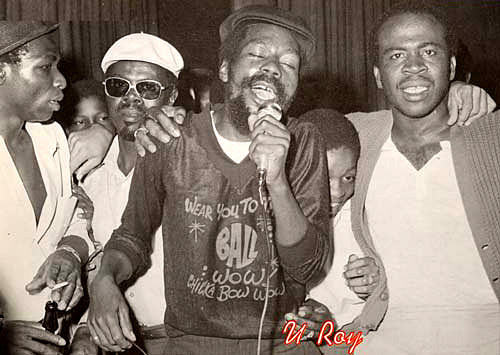 U-Roy and friends
The similarities of Jamaican Deejays and American MCs does not end there. By the late 1960s and early 1970s
, commonly Rocksteady and the emergent more musically complex Reggae records became the backdrop for complete "toasts" by Deejays
. These "Talkover" singles were cut by deejays capturing their toasts using the original rocksteady song
as an underlying rhythm. An example of this practice is seen below in "Chalice In The Palace" by pioneering deejay U-Roy who comically adopts The Techniques' love song "Queen Magesty" to beckon the Queen of England to share his love for ganja.
While U-Roy was not the first to chat over music he is often considered the best as he transformed toasting into a song form.
King Tubby
Hip Hop DJs later take note of the works of studio wizards such as King Tubby who began to "dub" "versions" of original rocksteady records, dropping vocals and instruments out of the mix to create instrumentals for deejays to chat over. Jamaican music now became truly influenced by the hand of the studio engineer. Sometimes favorite talkover versions sometimes overshadowed the original rocksteady cut. More revealing, certain dubs of rhythms, the bass line and melody itself, became so popular multiple deejays and singers would cut their own "version" of the rhythm resulting in a flood of records utilizing the same beat.
This approach to pop music ushers in the technique often called the "remix" where DJs and producers give a different take on a first recording. From elongated Disco 12" "dance edits" to Hip Hop's obligatory R&B or "posse cut" remix, the rehashing and reformatting of original material has become a staple of popular music worldwide. Thus, Jamaican Sound System culture serves as the musical "blueprint" of Hip Hop music.