- South Bronx's KRS-ONE
- Oakland's Souls Of Mischief
Not only was a first of its kind, Brian Cross' ethnography of the West Coast Hip Hop scene "
It's Not About a Salary...
" also provides insight into
why Hip Hop originating from across the country differs in content and style in many ways
. Further, when we use Simon Frith's methodology of identifying
technique
and
technology
to identify genres of popular music, we discover why West Coast Hip Hop may
sound different
than East Coast but ultimately its
music structure
is similar.
Differences in props:
Jam Master Jay holds a box...
To begin, Cross analyzes
Run DMC's "Peter Piper"
and the
World Class Wrecking Cru's "The Cabbage Patch,"
using the differences between the two records to
illustrate variations
between the
East Coast
and
West Coast approach to hip hop
.
...Dr. Dre (left) carries a stethoscope
Cross purposely contrasted two songs from the same era that employing the
same sample source
, Bob James' "
Take Me the Madri Gras
." What is difference? Cross likens "The Cabbage Patch" to a
"big-band sound"
as compared to "Peter Piper's"
"stripped down funk."
Cross generalizes that from 1982 to 1987,
most West Coast Hip Hop releases tended to lack originality or complexity in rhythm or lyrics
. The music was largely
derivative
and did not gain as much
critical or commercial recognition
.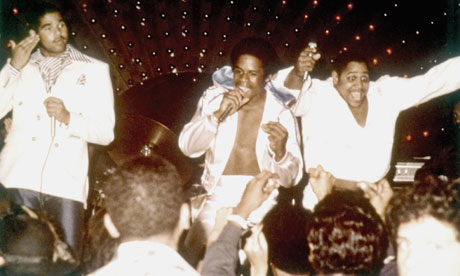 Sugarhill Gang's "Rapper's Delight" is often cited as
the "first" rap song heard on the West Coast
There is informal evidence that DJing, rapping, breakdancing and graffiti had its West Coast counterparts as early as the late 1970s. But considering that recorded Hip Hop music did not originate out West, Cross' opinion is not surprising. West Coast techniques were being shaped by what technologies are immediately available or in this case, unavailable. The regional beginnings of this culture relied on imported Hip Hop from New York City in the early 1980s, primarily rap music's biggest hits.
Too "underground" to make it
across the country
Cross indicates that the
stylistically varied
East Coast Hip Hop of the early 1980s was difficult to locate in CA. Another speculation cites that records like electro-funk sound of "
Planet Rock
" were
more enthusiastically embraced
than the "underground" East Coast sound. Thus, Cross states "more commercial aspects of the music seemed dominant in LA." While the community reflected the some of the same forms of structural marginalization of education and job opportunity- Cross contends the
"cutting edge of the music seemed to have been lost, in crossing the country, to commercialism."
The World Class Wreckin Cru look and sound more influenced by Prince than Run DMC in this early Dr. Dre video "Surgery":
Uncle Jamm's Army
We also learn that much like Bronx Hip Hop in the 1970s,
the West Coast scene began with a nomadic sound system, Uncle Jamm's Army
. Local DJs and MCs also made mix tapes and pressed their own records in the first half of the 80s, soon aided by radio and a dedicated club scene.
While this is not an absolute, one can also generalize that West Coast DJs favored the spacey George Clinton P-Funk sound, while East Coast DJs preferred the sparse, tough funk of the JBs. Roughly from 1987 to the "Industrial Era of Hip Hop" in 1997, this difference in inspiration and source material would characterize the musical difference between the two coasts.
However, both the
sharp contras
t in
urban culture
and
leisure practices
of
LA
to
NYC
proved to be the West Coast's
literal selling poin
t. In New York, since warm weather was seasonal, dark stuffy hip hop clubs were the norm. Crowded buildings and streets, cluttered skylines, and an aggressive but distant attitude characterized New York.
Whereas Los Angeles was favored by the sun year around, by sprawling suburbs and a laid back demeanor. While LA is as distinct and awesome as NYC, the rest of America,
especially the nameless suburbs
, have
more in common
with
this characterization of LA
than they do with the
architecture of New York
. Playing with such ideas, Snoop stars in this gangbanger sitcom "Homeboy Alone":
Perhaps the pace of the West Coast may be more appealing to a broader mainstream American sensibility. But perhaps
far more influential on the content of West Coast rap music
was the proliferation of
crack cocaine
,
automatic weapons
and
gang warfare
that became to characterize California's most troubled communities such as Compton, Watts and Oakland.
Further, as Compton drug dealer turned rapper Eazy E bankrolled NWA recordings or Crenshaw's Ice-T flaunted gang connections, the
criminal underworld and Hip Hop's rebellious spirit became linked
. This desire to
explicitly make money via Hip Hop music
compelled West Coast hip hop crews to take
artistic or political risks their East Coast brethren simply did not conceive
. With its blunt emphasis on
gang violence, drug dealing,
and
pimpology
, West Coast Hip Hop music was seemingly all the more dangerous and alluring to outsiders curious enough to know how the other half lived.
Ice T immediate makes clear how
addictive
and
dangerous
his
brand of rap
is:
For those within the culture who understood Hip Hop's theatrical raps of exaggerated claims of supremacy and cruel disses,
"gangsta rap"
as the critics called it,
simply signaled a new era of Hip Hop MCs
. Through the success of Ice T, NWA, and Too Short most notably, by the end of the 80s the
metaphoric base of MCs boasts now included graphic depictions of sex, abuse of women, detailed accounts of black on black violence, rebelling against police, and selling crack cocaine
.
NWA's "
Fuck the Police
" earned the group
a warning from the FBI
. In this interview, the crew appears to be lead by Ice Cube's
premeditated outrage
, followed by Ren's
aggressive defiance
and ending with Dr. Dre's
emphatic cash grab
.
In "Express Yourself" NWA's equates the
self expression of rap artists
will result in
incarceration
,
peril
and
death
:
One of Dr. Dre's first production projects outside of NWA came in the form of
Above the Law
. Their debut video was banned from MTV. It's lyrical content simply confirmed West Coast Hip Hop culture's lyrical intent: "Here's a murder rap to keep you dancing..."
While a group like NWA and the like were heralded as
street reporters
, the careless violence of their lyrics was intended as a selling point like a Hollywood action film rather than a carefully considered protest of injustice.
Too Short's "Freak Tales" were ribald limericks set to heavy Oakland bass peppered with pimp imagery:
Same Differences
At the turn of the decade, East Coast and West Coast rap artists, using common mediums- album releases, YO! MTV Raps, concert tours, growing journalistic press- evoked Chuck D's claim that "
Rap music was Black Amercia's CNN
." The following video illustrates this idea as
rappers from across the country piece together Hip Hop history
.
Low End Theorists
In hindsight,
stark contrasts in conception and intention of making rap music is clear when examining music and media content of the early 1990s
. When reading Source's interviews of
Too Short
and
A Tribe Called Quest
, it is clear
both sets of performers are at odds with the recording industry but both have different means on how to cope
. For Todd Shaw, his
Too Short is a business persona created for the convenience to manage a business enterprise
. For Q-Tip, Ali and Phife,
beats and rhymes are their life, their identities as MCs and producers inseparable
. Too Short looks to
move units
, Tribe Called Quest seem intent on
preserving the integrity of their art
.
Pimpin' Ain't Easy
Two videos released the same month, October 1991, reflect similar sentiments expressed visually and lyrical different. ATCQ's
"Check the Rhime"
champions the
craft of battle rapping, celebrates the Jamaica Queens community they represent and questions the credibility of pop rappers and the intentions of the record industry
. Ice Cube's
"True To the Game"
not only indicts
rappers going mainstream
but any
Black Americans from the 'hood who tries to conform to a white America either where they dwell or where they work
. Cube's smooth flow is
stark
and
menacing
; Phife and Tip are
conversation
l but
nuanced
and
referential
.
From William Cobb's,
To The Break of Dawn
, pg. 56: "
The MCs of West Coast were generally looked down upon their eastern counterparts; their tendency toward languid, head throbbing cadence was taken as an absence of lyrical ability. [The East Coast MC's] were overstuffing their bars with syllables, labyrinths of alliterations, and clever verbal effects to illustrate their dexterity of tongue."
Quest confirms their authenticity by actually performing a concert in their neighborhood during the shooting of their video. In contrast, at no point in the video does Ice Cube even rap into the camera, his lyrics secondary to his overall theme of unflinching, uncompromising black urban masculinity. While the music plays in the background, Cube is scripted to attack "sellouts", kidnapping them at gun point and racially re-programming them via the Nation of Islam. Lyrics are so important to A Tribe Called Quest, however, they scroll in the background of their video, lest the viewer forget the literary nature of their craft.
It is these
similar difference
s that begin to
create a divide between the two coasts most highly prolific and successful Hip Hop recording artist
s.
California Love Hate Relationship
The
East Coast / West Coast "War"
was a
legitimate rivalry on record
having its
beginnings in the early 1990s
with Tim Dog barking, "Fuck Compton." The West Coast's growing profile did not sit well with tough South Bronx purists:
Nas' debut secures the
coveted 5 mic rating
The Chronic is "snubbed"
with a 4.5 mic rating
As Hip Hop culture
emerged in new forms via new mediums
,
exposure in television, films and in print began newly contested grounds to obtain respect
.
The Source Magazine
, the self proclaimed "Hip Hop Bible" became a hotbed of controversy, debate and acrimony erupted over coverage and album reviews in particular.
While the West Coast was gaining greater record sales, East Coast Hip Hop tended to garner more attention of music critics
. Increased competition between East and West Coast crews seemingly at first only forced MCs and DJs to up the creative ante; the reverence paid to Dre's 1992
The Chronic
or Wu Tang's 1993
36 Chambers
confirms this idea.
But by the mid 90s, with
the lines between drug dealing and music making blurred
, the
competitiveness of hip hop culture turned fatal
with the September 1996 shooting of Tupac Shakur in Las Vegas and March 1997 shooting of Christopher Wallace in Los Angeles.
The "beef" began after Tupac Shakur's initial 1995 shooting in New York seemed to implicate the Bad Boy camp or at least somebody from an East Coast crew.
Rivalries on record between Bad Boy and Death Row turned from competitive to threatening
as in Tupac's "Hit 'em Up" or Biggie's "Who Shot Ya?". From the bio-pic
Notorious
, the movie imagines the hostility when Biggie performs this song as Tupac is recovering in the hospital. 'Pac was having none of it...
Did the music itself create conditions that lead to the killing of Big and 'Pac?
Antagonistic rivalries have always been a component of Hip Hop traditions
. A "dis" record or "beef" between MCs is nothing new. See the Juice Crew's "
The Bridge
" vs. Boogie Down Productions' "
South Bronx
." Even George Clinton told James Brown, "
Let's take it to the stage, sucka
," rivaling each other as to who owned the title of "Godfather of funk."
What was new to this still relatively young Hip Hop record business
were the
criminal backgrounds of its producers and promoters
. Suge Knight's openly stated connection to the Mob Piru Blood Gang and Sean Combs'
history overseeing a fatal concert event
created an atmosphere in which controversy was a business practice and tragedy was quick to be capitalized upon.
Here the
tensions erupt at award shows
,
interviews
and the
press
, resulting in
hurt feelings
,
gun fire
and ultimately
death
:
Newspapers and television journalists immediately declared a "Rap War" between West and East Coast hip hop crews; ignoring any of the traditions of rivalry within Hip Hop music, news reports instead emphasized the troubled pasts of Tupac and Biggie as if their deaths were inevitable.
Any larger social context in which the more violent nature of rap music portrayed was being ignored in favor of highlighting the tragic story of its fallen stars
. Yet, to this day neither murders have been solved and the direct or indirect involvement of the LAPD and LVPD remains a distinct possibility.
It should be noted that Minister Louis Farrakhan and the Nation of Islam were instrumental in conducting a "
peace summit
" in Chicago between high profile East and West Coast rap artists.
"Beefs" between the Coasts or artists have been generally confined to the recording booth since the loss of two of hip hop most charismatic, talented, and troubled MCs
.